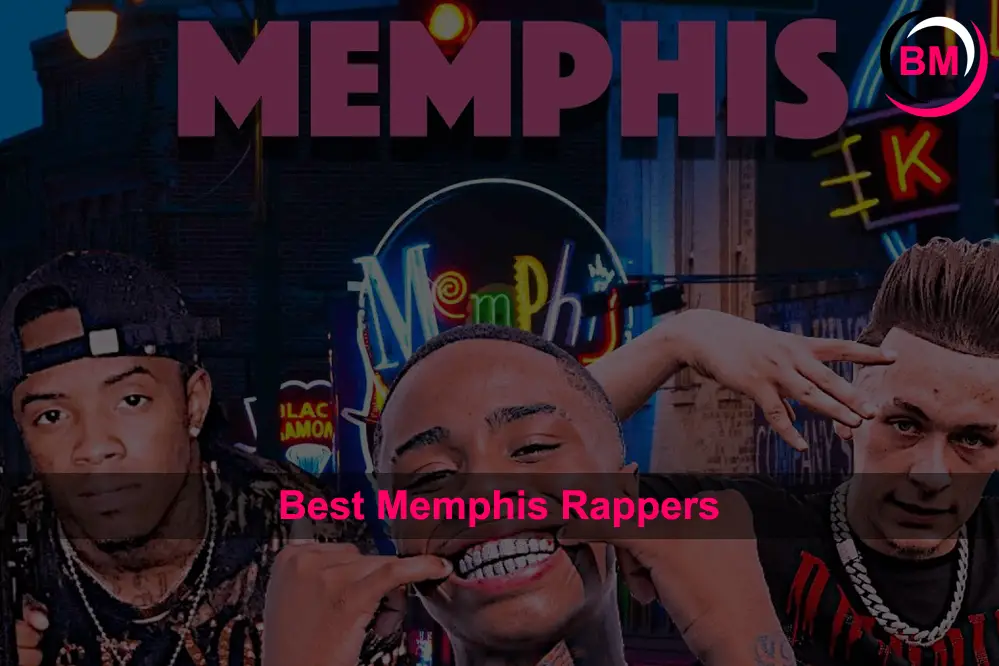 In a city known for its blues and soul music, Memphis has also been home to some of the best rap artists in the country. From 8Ball & MJG to Yo Gotti, these Memphis rappers have made their mark on the music industry.
In this blog post, I will show you some of the top Memphis rappers of all time.
Read on to find out!
Who Are the Top Memphis Rappers Right Now?
Memphis has a long, storied history in hip-hop, fostering renowned acts like 8Ball & MJG and Three 6 Mafia.
Today, a new generation of Memphis rappers is ensuring the city stays on the map in hip-hop. Artists like Don Trip, Blac Youngsta, Moneybagg Yo, and Key Glock have put Memphis back on the rap circuit with their hard-hitting lyrics and beats.
These top Memphis rappers have become major players by staying true to their roots while pushing ahead with new sounds and current flows.
Especially in an era where hip-hop is so heavily influential, it's great to see that the spirit of Memphis continues to live on through these talented artists.
Let's jump into the list.
1. Moneybagg Yo
Moneybagg Yo is one of the top Memphis rappers right now. He started rapping in 2009, released numerous mixtapes, gained critical acclaim, and even scored a few Billboard Hot 100 hits.
Moneybagg's sound is heavily influenced by his hometown roots, blending gritty trap beats with hardcore rhymes about life in Memphis. His most famous songs include "Doin 2 Much," "All Dat," and his collaboration with Blac Youngsta on "No Cutt."
2. NLE Choppa
NLE Choppa is another one of the top Memphis rappers right now. At 18, he's already made a big name in hip-hop with his hard-hitting rhymes and beats.
His breakout single "Shotta Flow" has been streamed over 200 million times, and he has collaborated with top artists such as DaBaby, Roddy Ricch, and City Girls.
3. Yo Gotti
Yo Gotti is one of the most iconic Memphis rappers of all time. He's been in the rap game since 1997 and has dropped 10 studio albums, the most recent being 2020's Untrapped.
Gotti is known for his street-smart rhymes, catchy hooks, and Memphis swagger. His most famous songs include "Down in the DM," "Act Right," and his collaboration with Lil' Wayne on "We Can Get It On."
4. Young Dolph
Young Dolph has been one of the most influential Memphis rappers in recent years. He began his career in 2008 and made a name for himself with his mixtapes and albums. In 2014, his breakthrough single "Preach" put him on the map and established him as one of the top Memphis rappers.
Young Dolph's music is often characterized as Southern trap and has collaborated with several other top hip-hop artists. His most popular songs include "Cut It," "Go Get Sum Mo," and his collaboration with Gucci Mane on "That's How I Feel."
Young Dolph was assassinated in 2020 at 32, but his legacy lives on through his music and influence.
5. Key Glock
Key Glock is Young Dolph's protege who quickly stepped out of his shadow and became one of the top Memphis rappers. He debuted in 2017 with his mixtape, Glockoma and has since released numerous projects. He signed with Paper Route Empire in 2018 and has only continued to rise as one of the hottest Memphis rappers.
Key Glock is known for his witty bars and hard-hitting beats that blend trap and Southern rap. His most famous songs include "Russian Cream," "Dum & Dummer," and his collaboration with Young Dolph on "1 Hell of a Life."
6. Glorilla
Glorilla is a newcomer on the Memphis rap scene, but he's quickly making waves with his unique sound and style. He began rapping in 2018 and has since released a debut album, Little Jazzy. Glorilla's music is often described as gritty but melodic, and he has been praised for his lyrical content.
His most famous songs include "Show You What It Do," "Bounce Out" and his collaboration with NLE Choppa on "Right Now." Gorilla is set to be one of the next prominent Memphis rappers, and we can't wait to see what he does next.
7. Pooh Shiesty
Pooh Shiesty is a Memphis native who has been making waves with his rap career. He started rapping in 2020 and quickly grabbed the attention of hip-hop fans with his debut single, "Back In Blood." Since then, he has released numerous singles and mixtapes, and his star power has only grown.
Pooh Shiesty is known for his streetwise rhymes and unique flow that blends trap and Southern rap. His most famous songs include "Back In Blood," "Twerksum," and his collaboration with Lil Durk on "Neighborhood Hero."
8. Juicy J
Juicy J is one of the original Memphis rappers who has been in the rap game since 1992. He's a founding member of Three 6 Mafia and has released numerous solo albums, the most recent being 2020's The Hustle Continues.
Juicy J is known for his hypnotic beats and braggadocios rhymes. His most famous songs include "Slob on My Knob," "Bandz A Make Her Dance," and his collaboration with Katy Perry on "Dark Horse."
What Makes Them Stand Out From Other Rappers in the Game?
Artists such as Drake, Kanye West, Eminem, and Jay-Z have become giants in rap history due to their creative and lyrical genius.
However, they stand out from the rest of the hip-hop world because of their unique approach to their production, songwriting skills, and ability to connect with listeners on a personal level. Their collaborations with other renowned producers and vocalists add an extra layer of color to each track.
Furthermore, their music is emotional and empowering, often criticizing issues plaguing society today, like poverty or police brutality. Drake takes us back to his hard times growing up in Toronto, while Kanye makes us laugh at the absurdity of media culture.
Together they create an atmosphere full of life and diversity – something we don't see much in the genre.
What Are Their Most Popular Songs, and Why Do People Love Them So Much?
Many people enjoy the music of The Beatles, and some of their most beloved songs are "Yesterday," "Hey Jude," and "Let It Be." These timeless tracks have been covered by countless artists to this day and have become pop culture staples.
The heartfelt writing style of the band gives fans an emotional connection to each song. One needs to look no further than the gospel-flecked optimism of "Hey Jude" to understand why it began as a floor-filler at dance halls during its release and remains widely popular in the present day.
People appreciate its message of resilience in challenging times — offering perspectives on picking up the pieces when life takes a turn for the worse. With soulful flourishes that capture the joys and sorrows of life, these timeless classics will continue to bring people together through music for many years to come.
What's the Story Behind Each of These Rappers, and How Did They Become Successful in the Music Industry?
Rappers of today take inspiration from their predecessors, some of whom have gone on to become the most successful and celebrated artists in the music industry. Looking at the origin stories of today's most prominent names in rap reveals incredible tales of ambition and creativity.
From Eminem, who left school early to pursue his dream of being a rapper, to Lil Wayne, whose homemade mixtapes sold on the streets led him to superstardom, every story is unique and inspiring.
Music lovers admire these ambitious individuals for their hard work and dedication—without their pioneering paths, there would be no flourishing rap community.
How Does Their Music Reflect Memphis Culture, and What Does It Say About the City Today?
Music has long been an essential aspect of Memphis culture, and its influence on the city is evident in today's sounds. From Elvis Presley to Justin Timberlake, Memphis musicians have created a legacy that resonates throughout the region.
From gospel and blues to hip hop and R&B, their music evokes emotions ranging from joy to sorrow and indicates a larger sense of pride the city holds in its musical history. The music composed in the town not only reflects its culture but also gives it identity in the national consciousness.
It helps to drive the scene forward as people worldwide are exposed to this unique sound style. Moreover, Memphis musicians act as ambassadors for their hometown, proudly spreading their cultural roots far and wide.
Music has undoubtedly played an integral role in defining what makes Memphis so unique, providing a window into its past and hopes for its future.
Conclusion
Memphis rap has a long and storied history, and several talented artists have come out of the city over the years. The list of Memphis rappers above is just a tiny sample of the fantastic talent from the city. These Memphis rappers will keep you entertained if you're looking for new music.
Whether you're a fan of trap, Southern rap, or just looking for good music, these Memphis rappers have something for everyone. So look at the list and get ready to be blown away. These artists have a unique sound and style that will have you hooked.
Frequently Ask Questions
Related Posts:

John is the Senior Content writer at BandMag. With 8+ years experience in content writing and SEO, he loves talking about content creation, SEO and his dog.