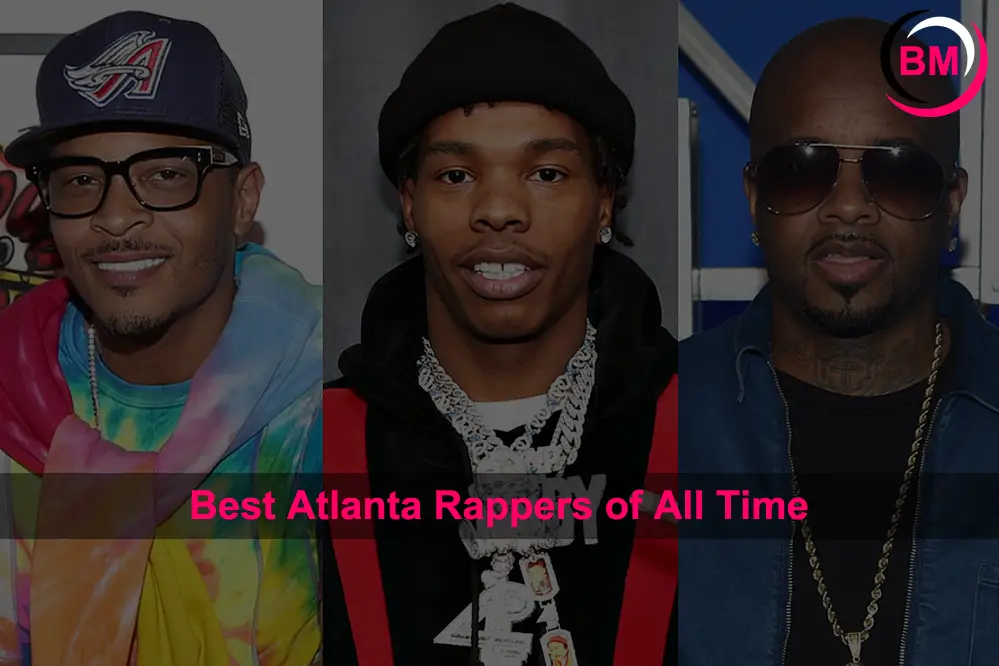 Atlanta has been a hotbed for rap music for many years, and countless talented rappers have come out of the city. This post will look at some of the most popular Atlanta rappers and see what makes them so special. 
Whether it's their unique flow or clever lyrics, these artists have made a name for themselves in the rap world. So without further ado, let's get into it!
Introduce the Atlanta Rap Scene
The rap scene in Atlanta is thriving, with home-grown stars such as Future, Lil Baby, and Young Thug having risen to the top of rap's major leagues.
The city continues pumping out new rap sensations yearly, with artists like 21 Savage and 6LACK leading rap's contemporary faces. Atlanta rap has become synonymous with modern rap culture; producers are developing a signature sound that includes soul, funk, rock, and blues elements.
These acts consistently bring out some of the most passionate and devoted fans nationwide. As the most influential music genre currently, rap continues to upend genres while crossing cultures in the process, and it all began right here in Atlanta.
Discuss the History of Atlanta Rap and its Influence on the Industry
Since the 1990s, Atlanta rap has become a staple of hip-hop. It was an interesting new development at the time, blending soul, funk, and jazz to form a unique sound.
The earliest Atlanta rappers included Goodie Mob, OutKast, and TLC — all of whom have become iconic influencers in rap music. Over time Atlanta rap has pushed the boundaries of what is acceptable in hip-hop, exploring conscious raps about social injustice and triumphant stories about Atlantic culture.
Their influence on popular culture cannot be understated: Atlanta rappers are now regular fixtures at the Grammys and getting praised for their bold experimentation and creative collaborations.
List of the Most Popular Atlanta Rappers
1. Lil Baby
Lil Baby is one of the hottest rappers out of Atlanta right now. He signed with Quality Control Music in 2017 and released two top-charting albums, Harder Than Ever and My Turn. His tracks have been praised for their lyrical depth and intelligence, often tackling social issues like police brutality or addiction.
2. 21 Savage
21 Savage is an Atlanta native who has become one of the most famous rappers in the game. He signed with Epic Records in 2018 and has since released two albums, Issa Album, and I Am > I Was, that have both gone platinum. His music is often dark, exploring his struggles growing up in Atlanta's drug-ridden areas.
3. Future
Future is an Atlanta rapper who has been dominating the charts since 2011. He's released five albums, including DS2 and Beast Mode 2, both certified platinum. His sound often incorporates trap beats and melodic synths, creating a unique vibe that has become popular among rap fans.
4. Young Thug
Young Thug is another Atlanta rapper who has made a name for himself over the past few years. He first rose to fame with his breakthrough mixtape, Barter 6, and has since released five studio albums. His music often features off-kilter flows and clever lyrics that make him stand out from other rappers in the game.
5. Migos
Migos is a rap trio from Atlanta that earned mainstream success with their mixtape, Y.R.N (Young Rich and N****s), in 2013. They've since released three albums, Culture, Culture II, and Culture III, all of which have debuted at number one on the Billboard 200 charts.
Migos sound has become a cornerstone of hip-hop, with its heavy 808 basslines and trap beats. They are noted for using catchy hooks, adlibs, wordplay, and vocal delivery that have become staples in modern rap.
6. Gunna
Gunna, an American rapper from Atlanta, Georgia, has gained national recognition for his mixtapes Drip Season 1 and Drip Season 2. He first broke through with the single "Drip Too Hard" featuring Lil Baby, which peaked at number four on the Billboard Hot 100 chart in 2018.
Gunna's distinct sound and style have been praised by fans and critics alike. His production, often featuring pianos and organ-like synths, creates a mellow, melodic backdrop for his smooth vocal delivery.
7. Gucci Mane
Gucci Mane is a legendary hip-hop artist from Atlanta, Georgia. He began his career as an underground rapper in the early 2000s and has become one of the most influential artists in the modern rap game.
Gucci Mane has built his reputation from a unique style, blending southern trap beats with his introspective and boastful lyricism. His albums have often featured a mix of producers, ranging from Zaytoven to Metro Boomin, and have helped to define the sound of southern hip-hop.
8. Lil Yachty
Lil Yachty is an American rapper and singer from Atlanta, Georgia. He first gained recognition after releasing his single "One Night" in 2015. He is one of the best Atlanta Rappers of all time.
Since then, he has released three studio albums and countless mixtapes, all of which have helped establish him as one of the most popular young artists in the modern hip-hop scene.
Lil Yachty has been credited with helping to popularize a style of rap that is often characterized by a melodic flow and auto-tuned vocals. He has collaborated with various other artists, including Chance the Rapper and Migos, and continues to innovate in the rap game.
9. Playboi Carti
Looking for the best Atlanta rappers? Playboi Carti is the female version of the popular trap artist from Atlanta, Georgia. His career began in 2016 with his self-titled mixtape, and he has since released two studio albums and multiple singles.
Playboi Carti is widely known for his experimental production, often featuring futuristic synths and heavy basslines. 
His hip-hop style is often described as "mumble rap" due to his tendency to deliver his verses in a low register, often with heavy autotune. His unique sound has helped him stand out amongst his generation's other trap artists.
10. Latto
Latto is an up-and-coming musician from Atlanta, Georgia. After releasing his first single in 2017, Latto quickly gained recognition with his unique blend of trap and R&B. His music features heavy 808s and melodic synths, creating a sound that has been compared to the likes of Travis Scott and Bryson Tiller.
Latto's style has been praised for its combination of heavy trap beats and smooth vocals. He often fuses various genres, including hip-hop, R&B, and pop, to create his sound.
Discuss Their Unique Styles and Contributions to the Music World
The musical contributions of Pop Smoke and Juice WRLD continue to be felt in the music world, despite their untimely passing. Both artists demonstrated a unique approach and style to their music, blurring the lines between hip-hop, trap, drill, and other genres.
Pop Smoke was known for his raw delivery, and great lyrical content found on his debut album, 'Meet the Woo.' 
He brought new energy to New York rap by blending drill music from the UK with U.S. rap culture. Juice WRLD also featured a unique blend of genres, with pop, rock, and hip-hop influences prominently in his music.
His genre-bending approach made him one of the decade's biggest stars, with hits like 'Lucid Dreams' certifying him as a legendary musician that we sadly lost too soon.
Offer a Glimpse into the Future of Atlanta Rap
Atlanta rap has come a long way since its revolution in the 90s. It has become one of the most influential genres in hip-hop and continues to get more popular each year.
So what does the future of Atlanta rap look like? We will likely see a mix of styles and production techniques employed, allowing some truly unique sounds to take the spotlight.
Some genres that have already started popping up are drill and Trap&B, which have distinct musical pallets. We will also continue seeing innovators utilizing technology and digital effects to create something new.
Wherever it leads, Atlanta rap will remain relevant and continue paving the way for many more sub-genres.
Conclusion
The Atlanta rap scene is vibrant and innovative, with many different styles, sounds, and producers emerging daily. Artists like Pop Smoke, Juice WRLD, Lil Yachty, and Playboi Carti are all pushing the boundaries of what is possible in hip-hop and setting a strong example for the future of rap.
Their unique styles and contributions to the music world will surely be remembered and celebrated for years.
We hope you will now get the list of the top Atlanta rappers and their unique styles and contributions to the music world. This list gives you an idea of what the future may hold for Atlanta rap.
That's all for the top Atlanta Rappers of all time! You can also check out Forever in Our Hearts: Remembering the Rappers that Died and The 15 Best Philly Rappers of All Time.
Atlanta Rappers FAQs
Who is the most famous rapper from Atlanta?
The most famous rapper from Atlanta is Lil Yachty, who has established himself as one of the top rappers in the city and beyond.
Who is the most prominent artist in Atlanta?
The most prominent artist in Atlanta is Future, who has been steadily releasing hit songs since 2011 and is considered one of the most influential rappers of his generation.
What is Atlanta rap?
Atlanta rap is a subgenre of hip-hop that originated in Atlanta, Georgia. It is characterized by its heavy 808s and melodic synths, creating a sound that has been compared to the likes of Travis Scott and Bryson Tiller. It often fuses various genres, including hip-hop, R&B, and pop.
What are some of the best Atlanta rap songs?
Some of the best Atlanta rap songs include "Mask Off" by Future, "Bad and Boujee" by Migos, and "I'm the One" by DJ Khaled ft. Justin Bieber, Quavo, Chance the Rapper, and Lil Wayne, "Pick Up The Phone" by Young Thug ft. Travis Scott, and "Bank Account" by 21 Savage.
What does ATL stand for in rap?
ATL stands for Atlanta, which has become synonymous with the city's thriving rap music scene. It is often used to refer to rappers, producers, and record labels in the town.
What record labels from Atlanta?
Some of Atlanta's most well-known record labels include Quality Control Music, Grand Hustle Records, and So So Def Recordings. These labels have helped to shape the sound of Atlanta rap and bring it to the mainstream.
What does trap mean in rap?
The trap is a subgenre of rap music that originated in Atlanta and has become popularized worldwide. Its dark and gritty sound characterizes it, often featuring 808 drums and hard-hitting basslines. Trap music is known for addressing issues of poverty, crime, and violence.

Frank is the Senior Content writer at BandMag. With 12+ years experience in content writing and SEO, he loves talking about content creation, SEO and Football.