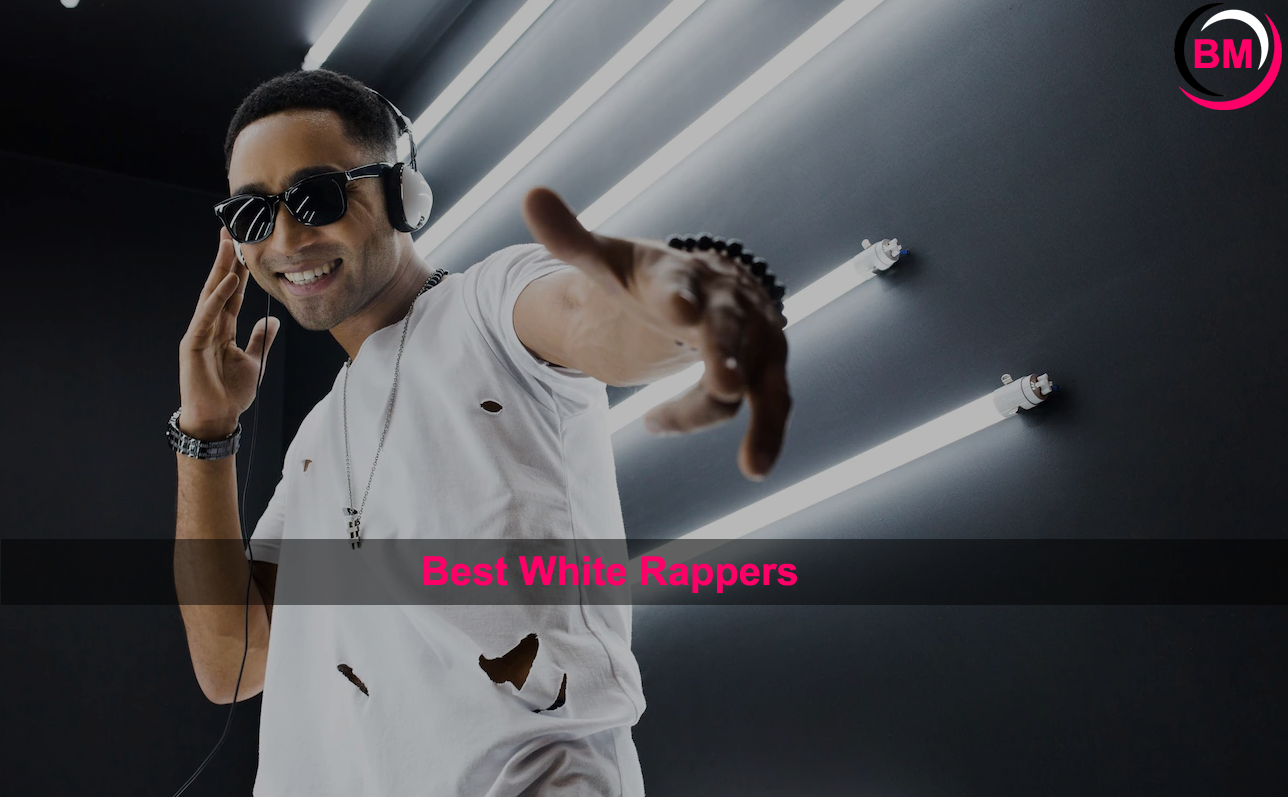 The debate over who is the best rapper alive is one that will rage on forever. But when it comes to white rappers, there are a few that stand out above the rest. In this article, I'll cover my picks for the 25 best white rappers in the game today.
White rappers, also known as "vanilla" or "mayonnaise" rappers, have been a part of the hip hop scene since the genre's inception. While white rappers may not be as prevalent as their Black counterparts, they have still made a significant impact on the genre and have gained a dedicated following.
Here are some of the best white rappers in the game:
Best White Rappers of All Time
1. Eminem
Eminem, also known as Slim Shady, is perhaps the most well-known white rapper of all time. He rose to fame in the late 1990s with his controversial and often inflammatory lyrics, and has since become one of the best-selling artists in the world. His technical skills, quick wit, and storytelling abilities have earned him numerous awards and accolades, including 13 Grammy Awards.
2. Mac Miller
Mac Miller was an American rapper, singer, and record producer who rose to prominence in the 2010s. He was known for his laid-back style and introspective lyrics, and released several successful albums including "Swimming" and "The Divine Feminine." Miller was also a talented producer and worked with artists such as Schoolboy Q and Vince Staples. He, unfortunately, passed away in 2018 at the age of 26.
3. Post Malone
Post Malone is a rapper, singer, and songwriter who first gained fame with his hit song "White Iverson." He has since released several successful albums, including "Beer Bongs & Bentleys" and "Hollywood's Bleeding," and is known for his unique blend of hip hop and pop. Malone's smooth flow and catchy melodies have earned him a large and dedicated fan base.
4. Machine Gun Kelly
Machine Gun Kelly, also known as MGK, is an American rapper and actor from Cleveland, Ohio. He rose to prominence with his debut album "Lace Up" and has since released several successful projects, including "General Admission" and "Bloom." MGK is known for his energetic performances and hard-hitting lyrics.
5. G-Eazy
G-Eazy is a rapper, producer, and songwriter from Oakland, California. He rose to fame with his debut album "These Things Happen" and has since released several successful projects, including "The Beautiful & Damned" and "When It's Dark Out." G-Eazy is known for his smooth flow and catchy hooks and has worked with artists such as Britney Spears and Cardi B.
Meanwhile, you can also check out What Rapper Has the Most Kids.
6. Paul Wall
Paul Wall is a rapper and producer from Houston, Texas. He rose to fame in the mid-2000s with his debut album "The People's Champ" and has since released several successful projects, including "Get Money Stay True" and "Fast Life." Paul Wall is known for his smooth flow and clever lyricism.
7. Rittz
Rittz is a white rapper from Atlanta, Georgia, who was signed to Strange Music in 2013 by Tech N9ne. His debut album The Life and Times of Jonny Valiant debuted at number 10 on the US Billboard 200 in 2013, making it Rittz's highest-charting effort to date. His career has only grown from there, with many of his songs – such as "Sleep at Night" and "Crown Royal" – appearing on the Billboard Hot 100 and earning platinum certifications.
8. Kid Rock
Kid Rock is also a talented songwriter. He has written many of his own songs, as well as collaborating with other artists such as Eminem, Limp Bizkit, and Snoop Dogg. He has also released numerous successful albums over the years such as "The History of Rock", "Cocky", "Devil Without a Cause" and "Rock N Roll Jesus".
Kid Rock has also been involved in many charitable causes, including the American Red Cross, Feeding America, and ALS Association. He is a strong supporter of the US military and has held benefit concerts to raise money for the families of fallen soldiers.
9. Brother Ali
Brother Ali is a rapper, singer, and activist from Minneapolis who has been creating art for almost 20 years. His music is heavily influenced by his Islamic faith and activism, and he is widely recognized for his emotionally honest, political, and thought-provoking lyrics.
With eight critically acclaimed albums to his name, Brother Ali has gained a loyal following and is a prominent figure in hip-hop.
10. Vinnie Paz
Vinnie Paz is a Sicilian-American rap artist with a large following in his hometown of Philadelphia. He is the mastermind behind the hip-hop movement Jedi Mind Tricks. Vinnie Paz is known for his intricate lyricism and has released a vast catalogue of songs, including hits such as "Cheesesteaks" and many more. His music speaks to an audience beyond hip-hop, and his influence can still be felt in rap music today.
11. Pitbull
Pitbull, also known as Armando Christian Pérez, is a Cuban-American rapper and singer from Miami. He has become one of the biggest names in rap, selling millions of albums and having multiple hit singles on the Billboard Hot 100. In addition, his songs often feature a fusion of reggaeton, hip-hop, and pop music styles.
Plus, he is also known for his collaborations with other stars such as Christina Aguilera, Jennifer Lopez, and Florida. In 2010, Pitbull was named the most popular rap artist in the world by Billboard Magazine.
12. Beastie Boys
Beastie Boys is another legendary hip-hop trio from New York City who is widely regarded as one of the most influential musical groups in rap history. The group was formed in 1981 by Mike D, MCA, and Ad-Rock, who then went on to become one of the most popular groups in hip-hop.
13. Asher Roth
has gone on to work with many successful artists including Akon, Lupe Fiasco, and T.I. He's also worked in a number of other genres, such as folk and rock. In 2011, Roth released his third album, Pabst & Jazz, which received positive reviews from critics. The album featured a variety of styles, including rock and hip-hop, and included collaborations with artists such as Chris Brown.
Roth has released multiple singles over the years, including "I Love College" in 2009 and "Flowers on the Weekend" in 2012. These songs have become fan favorites, and serve as a reminder of Roth's creative style and lyrical genius. He's also been featured in several films and television shows, including Entourage and Workaholics.
14. Hoodie Allen
Hoodie Allen continues to tour around the world and make many standout appearances in popular rap songs. He even has his own radio show, HoodieNation, which is broadcast on Apple Music. In addition to being a rapper, Hoodie Allen is also a songwriter and producer.
Plus, he has written for artists like Flo Rida, Demi Lovato, and Blake Shelton. His production credits include two songs on Justin Bieber's 2020 album Changes.
R.A. The Rugged Man has continued to cement his place in hip-hop, winning awards and collaborating with some of the top names in rap. His solo albums have gone on to receive positive reviews and have spawned hits like "Uncommon Valor", "Holla-Loo-Yuh", "Lessons", and "Definition of a Rap Flow".
In addition to his solo releases, R.A. The Rugged Man has also found success in the production and engineering side of hip-hop. He's been involved in various projects as a producer, engineer, and songwriter for acts like The Notorious B.I.G., KRS-ONE, Cypress Hill, Ice Cube, and more.
16. "Weird Al" Yankovic
"Weird Al" Yankovic is famous for his parody songs and videos that mock popular rap hits. He has released multiple albums containing parodies, polka medleys, and other comedic tracks. Moreover, he has collaborated with multiple rappers throughout his career on both parody and original tracks.
Also, Yankovic has done more than just music. In the late 80s and 90s, he made appearances on television shows like The Simpsons and Mad TV, and he also directed music videos for some of his tracks. He has even won multiple Grammy awards, proving that he is a legitimate rap artist.
17. Danny Boy O'Connor
Danny Boy O'Connor released his debut solo album "Pain Language" in 1997, cementing himself as a formidable presence in the hip-hop world. The album featured hit singles like "Danny Boy" and "Livin' in Pain," which received heavy rotation on radio and MTV.
Danny Boy also collaborated with other artists like Ice Cube, Common, and Redman, further solidifying his presence in the rap game. He also made several appearances in film and television shows.
Despite his success, Danny Boy was never able to replicate the success of House of Pain. He eventually faded from the mainstream hip-hop spotlight, though he still records and performs today. His story is a reminder of how quickly the rap game can change, with one moment in time being the high watermark of an artist's career.
18. Everlast
Everlast, most notably known as the founder and frontman of the rap group House Of Pain, is a multi-faceted artist who is not limited to just the hip-hop scene. The East-Coast rapper has crossed over into the rock and country genre with his distinct crossover style that bridges the gap between genres.
Everlast has released a slew of solo albums, and collaborations, and has had hit singles such as the iconic "Jump Around" and the heartfelt "What It's Like." His music has earned him multiple Grammy Awards and he is widely recognized as one of the more influential rappers to come out of the East Coast.
Best White Rappers – Final Thoughts
In conclusion, these are just a few of the many talented white rappers who have made a significant impact on the hip hop scene. From Eminem's technical skills to Post Malone's unique blend of hip hop and pop, these artists have proven that talent knows no bounds when it comes to race.
Meanwhile, you can also check out 27 Best Canadian Rappers of All Time.
Frequently Ask Questions
Who is the best white rapper?
The best white rapper is widely considered to be Eminem. His technical skills, lyrical depth, and chart-topping hits have earned him a place at the top of many lists. Additionally, his collaborations with other rappers and producers have helped to bridge the gap between white and black hip hop fans. Other great white rappers include Post Malone, Danny Boy O'Connor, Everlast, and "Weird Al" Yankovic.
What rappers have been to the white house?
Several rappers have been invited to the White House, including Kanye West, Common, Ice Cube and Rick Ross. These rappers have all either collaborated with the Obama Administration on various political initiatives or been invited to participate in White House events. In addition, some of them have also performed at the White House for special events.
Which white rapper has sold the most albums?
The white rapper with the highest certified album sales is Eminem. He has sold over 47 million records in the United States alone, with his best-selling album being The Marshall Mathers LP. Other white rappers who have achieved similar levels of success include Post Malone, Everlast, and "Weird Al" Yankovic.
What white rappers have won Grammys?
Several white rappers have won Grammys, including Eminem, Post Malone, and Danny Boy O'Connor. Eminem has won 15 Grammys throughout his career, while Post Malone has won two. Danny Boy O'Connor won one Grammy in 1998 for Best Rap Performance by a Duo or Group. In addition, "Weird Al" Yankovic won four Grammys in 2014 for Best Comedy Album.
What are some of the best white rappers in history?
Some of the best white rappers in history include Eminem, Post Malone, Danny Boy O'Connor, Everlast, and "Weird Al" Yankovic. These five artists have had tremendous success in the rap game and have pushed the boundaries of hip hop and popular music. All five artists have achieved chart success, won numerous awards and accolades, and have influenced a generation of fans.
That's all! I hope you learned some new things about the best white rappers in history. Who is your favorite rapper? Let us know in the comments below!
You can also check out 4 Best Rap Name Generator and 15+ Best Baseball Walk Up Songs.
Related Posts:

Frank is the Senior Content writer at BandMag. With 12+ years experience in content writing and SEO, he loves talking about content creation, SEO and Football.