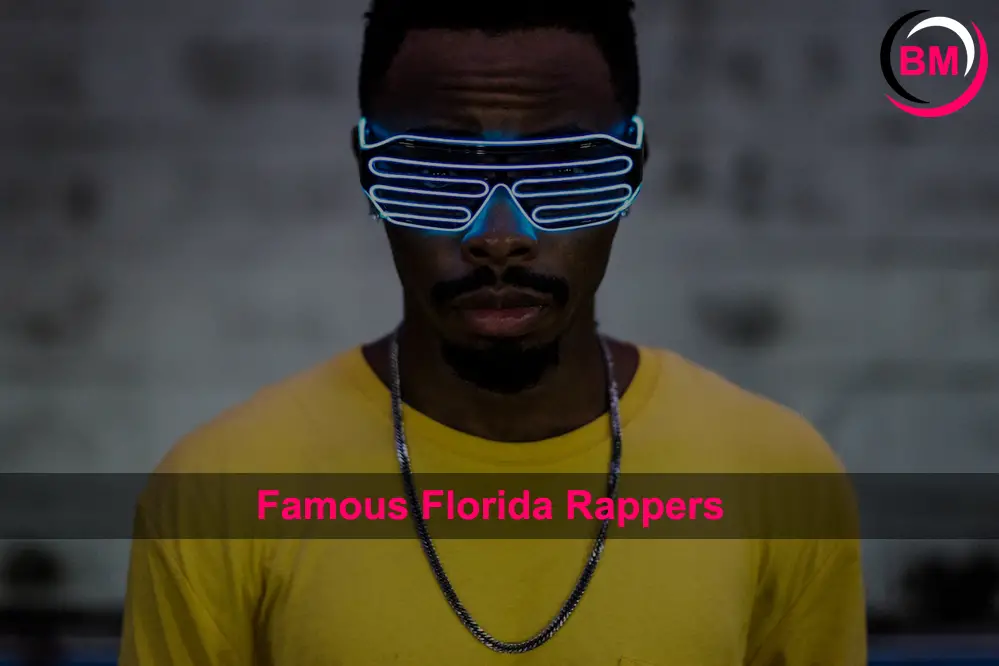 Florida has been home to many famous rappers over the years, and the state's hip-hop scene continues to produce talented artists. In this blog post, we'll be taking a look at 20 of the most famous Florida rappers.
So whether you're a fan of old-school legends or new-school up-and-comers, there's sure to be someone on this list for you. Let's get started!
List of the Famous Florida Rappers
1. Rick Ross
Rick Ross is an iconic Florida rapper whose influence on the modern hip-hop landscape cannot be understated. His raw, effortless delivery and hard-hitting beats have become staples in both Florida's regional scene and the modern hip-hop movement nationwide.
With hit albums like Teflon Don, Mastermind, and Port of Miami, Rick Ross joined the ranks of Florida's prominent rappers alongside the late DMX and Jay Z.
Since then, he has gained recognition from fans worldwide for his authentic brand of rap music. Rick Ross continues to set the bar high for Florida rappers today with each release.
2. Plies
Plies is one of the rappers from Florida who has gained immense worldwide fame. Born in Fort Myers, Plies first released his album in 2007 with the release of epic singles like Shawty and Hypnotized. His rap style combines funky rhythms with a unique flow that is hard to miss.
He often talks about different aspects of street life and tackles societal issues that are still so prevalent today. Over the years, Plies has become known for introducing a new sound to hip-hop music by inculcating music genres like reggae, soul, and funk into his songs.
Through his music, he has created a wave of rappers from Florida who have established their own sound apart from other rappers across the US.
3. Flo Rida
Flo Rida has long been considered one of the best rappers to come out of Florida. A multifaceted artist, he has etched a place for himself in various genres from pop and rap to R&B and dancehall.
His style stands out due to his unique combination of musical taste and lyrical flow that has allowed him to collaborate with some of the best names in the music industry, like Justin Bieber, Sia, Redfoo, and more.
Flo Rida songs are infectious too, with anthems like "Low," "Wild Ones," and "My House" becoming fan favorites all around the world. Fans need to give credit where credit is due – Flo Rida is without a doubt one of the best Florida rappers there is!
4. T-Pain
T-Pain has been one of the most famous rappers from Florida for the past decade. He has released multiple chart-topping albums, singles, and collaborations with other prominent musicians.
His signature auto-tune sound made him an instant household name, and he has since produced several certified gold and platinum records. His awards include two Grammys, six BET Awards, a Billboard Music Award, and 11 ASCAP Rhythm & Soul Awards.
Despite his fierce competition in music coming from famous rappers from Florida like Flo Rida and Rick Ross, T-Pain remains a top favorite among fans around the world.
5. Trick Daddy
Trick Daddy is a legendary hip-hop artist who has been making waves in the rap scene since the late 1990s. From his early mixtapes to chart-topping collaborations, he has been consistently finding success with his distinctive flow and distinct style.
Notorious for hits like "Nann" and "Let's Go," he continues to captivate audiences all over the world. Trick Daddy's work represents an important part of rap history and stands as a testament to his talent as an artist.
6. Khia
Khia, one of the earliest Florida female rappers to hit the mainstream music industry, come from Tampa in 2002 with her debut single, "My Neck My Back (Lick It)." Utilizing heavy bass and a catchy chorus she instantly made an impact.
Widely considered to be controversial at the time of its release due to its overtly sexual lyrics, the song was a pleasant surprise for music fans eager to hear something unique and daring.
Following the success of "My Neck My Back (Lick It)" Khia soon found herself being invited on various TV shows and performances around the world, her sassy attitude popularising her worldwide as one of Florida's top female rappers in modern times.
Meanwhile, you can also check out What Rapper Has the Most Kids.
7. Pitbull
Pitbull is one of the most popular rappers from Florida. He has been ruling the music charts since 2001, his releases making a huge impact in both mainstream and underground music scenes around the world.
His songwriting style fuses genres like hip-hop, pop, reggae, dancehall, and more to create an uplifting, party-friendly sound that has amassed him a large and loyal fan base.
From his crossover hits like "I Know You Want Me (Calle Ocho)," to more recent releases like "Give Me Everything," Pitbull continues to be one of the top rappers from Florida with an unparalleled talent for delivering great music.
8. Kodak Black
Kodak Black is a relatively new kid on the block compared to some of the other artists on this list, but his impact on the hip-hop world has been undeniable. The young rapper from Pompano Beach, Florida burst onto the scene in 2015 with his debut mixtape "Project Baby."
Since then, he has released several mixtapes and collaborated with some of the biggest names in hip-hop, such as Drake, Gucci Mane, Remy Ma, and more. His unique sound has gained him a lot of recognition and put him on the path to becoming one of Florida's most successful rappers.
Kodak Black continues to prove himself as one of Florida's top lyricists, with his latest project "Bill Israel" demonstrating the full range of his talent. With an impressive catalog already under his belt, Kodak Black is sure to remain one of rap's most influential artists in the years to come.
9. Lil Pump
Lil Pump is a rising force in the rap scene. Hailing from Miami, this young artist made his debut in 2016 with his self-titled mixtape. His energetic and often outrageous style quickly gained him attention from fans all over the world.
He has since released several projects including "Harverd Dropout" and "Harvard Dropout 2" as well as the single "Gucci Gang". His fame and influence continue to grow, making him one of Florida's most talked about rappers.
Lil Pump continues to captivate a young audience that is hungry for originality and new sounds. He looks set to be one of the top rappers from Florida for years to come.
10. Danielle Bregoli
Danielle Bregoli known better to the world as Bhad Bhabie is an American rapper and internet personality. She first gained notoriety in September 2016 after appearing on an episode of Dr. Phil, where she uttered the phrase "cash me outside, how bow dah?".
In addition, she subsequently signed with Atlantic Records and has released several albums and singles since her viral fame.
In 2017, a remix of her single "Hi Bich" charted at number 68 on the US Billboard Hot 100. Danielle also became the youngest female rapper to ever appear on the chart. In 2018, Danielle collaborated with Asian Doll, YG, and Rich The Kid in a single titled "Juicy".
She has also had several endorsements deals with companies like CopyCat Beauty and Postmates. She also started her own clothing line named "Bhanned In The USA" which is sold exclusively on her website.
She has also become a prominent figure in the fight against cyberbullying, having created the anti-bullying initiative "Bringing Awareness Valuing Everyone" or B.A.V.E., which encourages people to speak up and stand up against bullying.
11. DJ Khaled
DJ Khaled is another popular producer and artist who has been making waves in the music industry since 2006. He's released ten studio albums, produced an impressive number of tracks for other artists, and has even made appearances on TV shows like "The Voice" and "Saturday Night Live."
His most successful album, Major Key, earned him a Grammy nomination for Best Rap Album. DJ Khaled has also earned numerous awards, including a BET Award for Best Hip-Hop Artist and an American Music Awards for Favorite Rap/Hip-Hop Album.
His music is typically characterized by samples from other popular songs, powerful lyrics, and his signature ad-libs.
12. XXXTentacion
XXXTentacion is also a well-known rapper who has gained recognition for his unapologetic and almost chaotic approach to rap. His style of rap is often frenetic and intense, often blending elements of trap music with metal influences.
XXXTentacion's music is known for being emotionally charged and exploring topics such as mental health, depression, drugs, suicide, and violence. His rise to fame was rapid and his unique musical style, along with his uncompromising attitude and willingness to speak his mind about controversial topics, has seen him become one of the most respected and talked about rappers in recent years.
He passed away in 2018 due to a tragic shooting, however, his legacy lives on through his music. His influence on the rap game cannot be understated, and his music continues to inspire fans around the world.
13. Bobby Shmurada
Bobby Shmurada was an up and coming rapper in the early 2000s. He was known for his clever rhymes, catchy hooks, and bumpin' beats. While he never gained mainstream fame, Bobby's music still resonates with underground hip-hop fans around the world who appreciate his honest lyrics and unique sound.
Moreover, he was known for pushing the boundaries of rap by blending it with other musical styles such as jazz, R&B, and reggae. Bobby was never afraid to experiment and often incorporated obscure samples from his favorite underground producers.
Sadly, Bobby passed away in 2012 due to a drug overdose. However, his legacy still lives on through his timeless music and the many fans who still appreciate it today. He truly was a one-of-a-kind artist who will never be forgotten.
14. Yung Miami
Yung Miami is a rapper from the City Girls duo that has become a popular figure in the hip-hop world. The Miami native is known for her hard-hitting lyrics and sleek fashion sense. She's mostly been making waves with her solo songs, showing off her signature flow and clever punchlines.
From "Act Up" to "In My Feelings", Yung Miami has taken the rap game by storm with her infectious beats and unapologetic attitude. She's also been featured on tracks with the likes of Cardi B, Lil Uzi Vert, and Offset.
In addition to her music career, Yung Miami is also a businesswoman. In 2019 she launched her own clothing line called JT's Closet and has recently been named one of the faces of Luxe by KKW Beauty.
Clearly, Yung Miami is a force to be reckoned with and there's no telling what she'll do next! Keep an eye out for this rap star – she's sure to make more waves in the near future.
15. Rod Wave
Rod Wave is an American rapper from St. Petersburg, Florida. He started his career in 2017 and is becoming a rising star in the rap scene with his unique style of singing and storytelling. His most popular songs include "Heart on Ice" and "Through the Wire", which have garnered millions of streams across all major streaming platforms.
Rod Wave has been praised for his heartfelt lyrics and intense delivery, as well as his ability to take risks with his sound. He often draws on real-life experiences for inspiration, making his music even more personal and meaningful. His most recent projects include "Pray 4 Love" and the deluxe version of "SoulFly".
16. Trina
Trina was one of the pioneering female rappers in hip-hop music. She quickly became one of the most successful female rappers, and her hit single "Da Baddest Bitch" is considered an iconic classic. Her influence can be seen today in many new and upcoming female rap artists who cite Trina as one of their biggest inspirations.
Best of all, she wasn't afraid to speak her mind and tackle topics that weren't always popular in the rap scene. She often rapped about female empowerment, self-love, and the struggles of being a woman in the hip hop industry.
Trina was fiercely independent and unapologetic, making her an inspiration for many women who come after her. Her influence continues to be felt today and will surely continue to have an impact on hip-hop music for years to come.
17. Smokepurpp
Smokepurpp is a rapper from Miami whose real name is Omar Pineiro. His sound is a mix of hip-hop, trap, and drill, making for an eclectic mix that has earned him praise from critics and fans alike.
His breakout single "Audi" was released in 2017, and it's been a hit ever since. His music is known for its catchy beats, aggressive rhymes, and potent themes.
Smokepurpp has collaborated with a number of artists, including Travis Scott, Offset, and Lil Pump. He released his debut album "Deadstar" in 2018 to critical acclaim, cementing his status as one of the most exciting new artists in hip-hop.
Conclusion
These rappers represent the wide range of talent in hip-hop today. From the late greats like Tupac to up-and-coming stars like Yung Miami, these artists have made waves in the industry with their unique styles and messages.
They continue to influence a new generation of hip-hop fans, inspiring them to make their own mark on the music scene. There's no telling what's next for hip-hop, but one thing is certain: there will always be amazing talent pushing boundaries and creating something new.
That's all! You can also check out 15+ Best Baseball Walk Up Songs and John Legend: American Singer, Songwriter & Record Producer.
Famous Florida Rappers – FAQs
Who is the most popular Florida rapper?
The most popular Florida rapper is probably Kodak Black. He has had a number of hit singles, including "No Flockin" and "Tunnel Vision", both of which have been certified platinum.
Who are some other well-known Florida rappers?
What kind of music do Florida rappers make?
Florida rappers typically make hip-hop and rap music that is influenced by the local sound of Miami. The music often combines elements of trap and drill with soulful melodies.
Related Posts:

Hi my name is Richard Matthews I have been writing since 2014. I have a huge passion for rock music and I extremely enjoy playing it.