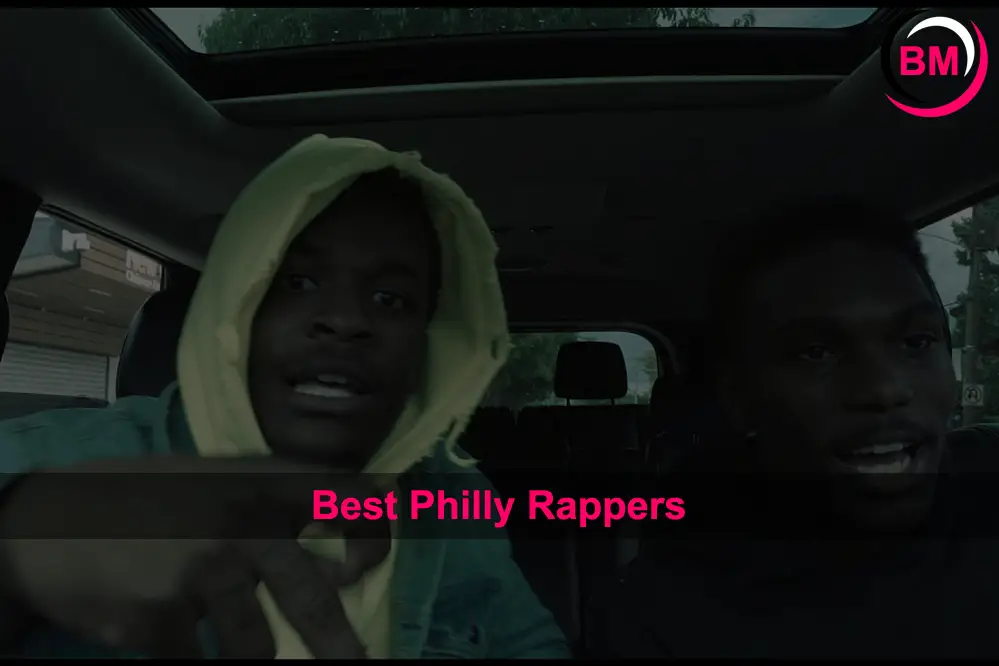 Are you wondering what are the best Philly Rappers of all time? 
Philadelphia has been a hotbed for hip-hop talent since the genre's early days. From DJ Jazzy Jeff and the Fresh Prince to Beanie Sigel and Freeway, Philly has produced some of rap's most memorable stars. 
Let's look at some of the best rappers of the City of Brotherly Love.
List of the Best Philly Rappers
1. Will Smith
We should mention Will Smith, one-half of one of rap's most beloved duos. He got his start in West Philadelphia with DJ Jazzy Jeff and became one of Hollywood's biggest stars. 
But it all started in Philly, where he made timeless songs like "Parents Just Don't Understand" and "Summertime." 
Even though he didn't stick around in rap for too long, Will Smith will always have a place among Philly's finest MCs.
2. Beanie Sigel
Beanie Sigel is a Philly legend which emerged from South Philadelphia in the late '90s/early 2000s. 
He was signed to Roc-A-Fella Records and quickly became one of Jay-Z's favorite collaborators, appearing on numerous tracks throughout Hov's discography. 
As a solo artist, Beanie released classic albums like The Reason, The B. Coming, and The Solution, cementing his place as one of rap's greatest lyricists.
3. Freeway
Freeway is another South Philadelphia native who made waves during the Roc-A-Fella era with hits like "What We Do" featuring Jay-Z and Beanie Sigel, as well as "Flipside" featuring Peedi Crakk and "Take It To The Top" with Snoop Dogg. 
His debut album Philadelphia Freeway was certified Gold by the RIAA and spawned several popular singles that are still played today. 
He recently returned with his fifth studio album, Think Free, which earned him critical acclaim from fans and critics alike.
4. Meek Mill
Meek Mill has cemented himself as one of the biggest names in rap today. He was born and raised in Philadelphia and gained recognition with mixtapes like Dreamchasers and DC4. 
He signed a deal with Rick Ross' Maybach Music Group, releasing several successful albums, including Dreams Worth More Than Money and Championships. 
He is also a philanthropist and social justice advocate, using his platform to speak up for the voiceless.
5. Peedi Crakk
Peedi Crakk is an underground rap legend who hailed from North Philly and was part of the State Property collective. He began his career in the late '90s, appearing on songs with Beanie Sigel and Freeway. 
He released solo projects like Peedi Crakk the Great and The Crack Era, as well as the mixtape series Peedi Peedi. He was also a successful ghostwriter, penning songs for artists like Jay-Z and Nas.
6. Eve
Eve was one of the first female rappers to gain widespread recognition. She made her debut in 1999 with the hit single, "What Ya Want," and released platinum-selling albums like Let There Be Eve…Ruff Ryders First Lady and Scorpion. 
She's also won a Grammy Award and nominated for four others. Eve is a Philadelphia native and one of the best MCs to come out of the city.
7. M.O.P.
M.O.P., known as Mash Out Posse, is a rap duo from Brownsville, Brooklyn, that consists of members Lil' Fame and Billy Danze. 
The veteran group has been around since the mid-'90s and is known for its intense, hardcore sound. 
They've released six studio albums, including Warriorz, certified Gold by the RIAA. M.O.P.'s raw energy has earned them a cult following among rap fans, and they are widely regarded as one of the best hip-hop groups from Philly.
8. The Roots
The Roots are an iconic hip-hop/neo-soul group formed in 1987 by Black Thought and Questlove. 
They were initially based out of Philadelphia but have since moved to New York City, where they serve as the house band on The Tonight Show with Jimmy Fallon. 
The Roots are best known for their jazzy, soulful production and Black Thought's intricate rhyme schemes. 
They have released multiple studio albums, earned two Grammy Awards, and remain one of the most influential hip-hop groups.
Conclusion:
A list of Philly rappers would only be complete with mentioning names like Eve, Meek Mill, Cassidy, Schoolly D, PNB Rock (just a few). 
These 15 artists make up only a fraction of what Philly has to offer—from classic throwback tracks to modern-day bangers—so make sure you check out all these great artists! 
Whether you're looking for old-school vibes or something more contemporary, there's something here for everyone to enjoy!
That's all! You can also check out 11 Best Christian Rappers (Updated 2023) and 7+ Best Memphis Rappers.
Philly Rappers – FAQs
Who are the most popular Philly rappers?
Popular Philly rappers include Jay-Z, Beanie Sigel, Meek Mill, Peedi Crakk, Eve, M.O.P., and The Roots. 
These artists have all achieved success both in Philadelphia and beyond with their music and have become some of the most influential hip-hop artists of all time.
What is the Philadelphia rap scene like?
The Philadelphia rap scene has grown and produced some of the most acclaimed and popular rap artists in the world. 
Philadelphia is home to various styles, ranging from classic boom-bap beats to more experimental production. There is an abundance of talented rappers, producers, and DJs in the city pushing the boundaries of hip-hop music.
What makes Philly hip-hop unique?
One thing that makes Philly hip-hop stand out is its diverse range of styles. From hard-hitting street bangers to soulful jazz-infused tracks, Philly hip-hop has a little bit of something for everyone.
Who was the first Philly rapper?
The first Philly rapper to gain widespread recognition was Schoolly D. He released his debut album, "Saturday Night!" in 1985, which included the hit single "P.S.K. What Does It Mean?" and is often credited with ushering in the era of gangsta rap.
How did Philly hip-hop start?
Philadelphia hip-hop started in the late 1970s with DJs and MCs using existing music technology to create their own unique tracks. 
By the early 1980s, DJs and producers began to collaborate more regularly, which led to the emergence of rap groups like Schoolly D and The Fresh Prince.
What are some popular Philly rap songs?
Some popular Philly rap songs include "It's All About The Benjamins" by Puff Daddy, "Ain't No Half-Steppin'" by Big Daddy Kane, "Ruff Ryders Anthem" by DMX, "What We Do" by Freeway, and "Grindin'" by The Clipse.
How has Philly hip-hop changed over the years?
Philly hip-hop has gone through different stages throughout its history, from the early days of Schoolly D to the more popular and mainstream sounds of Jay-Z and Meek Mill. 
The city has also seen a resurgence in underground hip hop with the emergence of SoundCloud rappers like Lil Uzi Vert and PNB Rock.
What is the best Philly rap album?
While there are many great Philly rap albums, one of the most acclaimed is The Roots' 1999 release, "Things Fall Apart." The album features some of their best production and lyrics and is considered one of the most influential hip-hop albums.

Hi my name is Richard Matthews I have been writing since 2014. I have a huge passion for rock music and I extremely enjoy playing it.