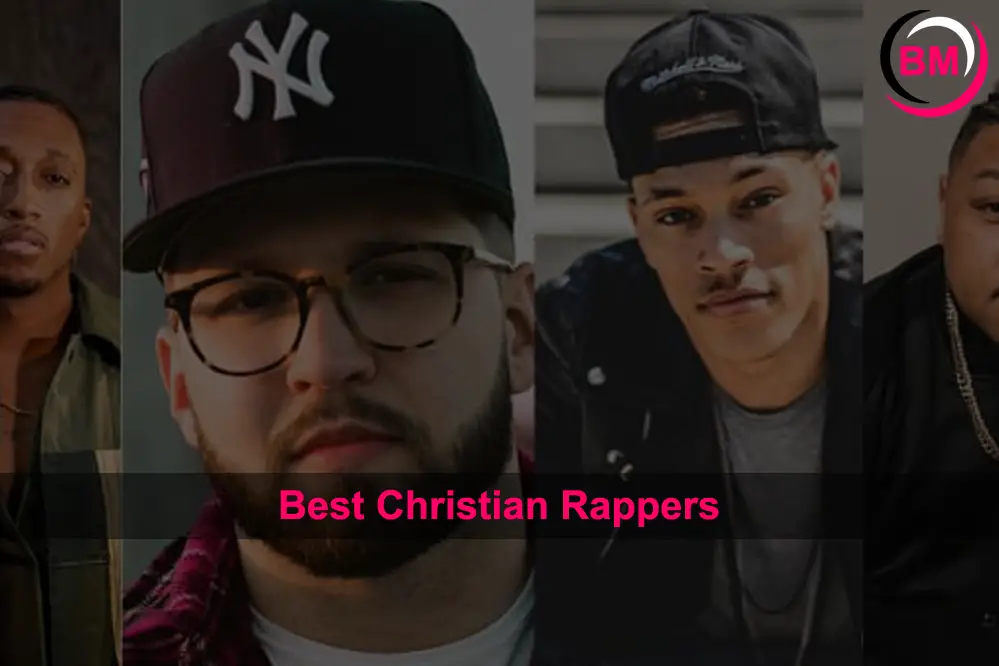 If you're looking for good Christian rap, you've come to the right place. In this blog post, we'll be discussing some of the best Christian rappers out there. 
If you need to become more familiar with Christian rap, you may be surprised at how good it can be. So sit back, relax, and enjoy reading about some of the best Christian rappers around.
List of the Best Christian Rappers
1. Lecrae
Lecrae is a Christian rapper who has achieved great success in his career. He has been awarded multiple Dove Awards and nominated for three Grammys and one BET Award. 
On top of this, Lecrae's influence can be seen throughout the hip-hop industry; he recently became the first hip-hop artist to receive an invitation to the Gospel Music Association's Dove Awards Hall of Fame.
It's no surprise that his impact is felt wherever Christian rap is discussed; it's clear that Lecrae knows how to bring together faith and music in an extraordinary way.
2. Propaganda
Propaganda is an acclaimed and influential Christian rapper who uses his music to confront complex, systemic issues. He has collaborated with countless high-profile artists and featured in several meaningful cultural conversations. 
His career focuses on tackling urgent topics such as race relations, fear-mongering, everyday life hypocrisy, and more. His works bring an invaluable perspective to these crucial social debates and highlight how inequality remains entrenched even today. 
Propaganda's powerful combination of encouragement, realism, and poignant dialogue has kept him at the center of rap music's most crucial conversations for over a decade.
3. Andy Mineo
Andy Mineo is widely regarded as one of the most powerful Christian rappers in the world. His music combines clever rhymes with a message of hope, faith, and determination. 
He has collaborated with some of the biggest names in the hip-hop industry, including Macklemore and Kanye West. Andy's unique blend of rap which empowers listeners to stay true to their faith and never give up has earned him two Grammy nominations.
His music somehow manages to capture a powerful message in an accessible way that appeals to many fans around the world.
4. Trip Lee
Trip Lee is an American Christian hip-hop artist and author. He has released four full-length projects, including his debut album, The Beautiful Struggle (2008), and three subsequent albums, Between Two Worlds (2010), The Good Life (2012), and Rise (2015). These albums are critically acclaimed for their raw and honest lyrical content.
5. Derek Minor
Derek Minor is an American Christian hip-hop artist and record producer from Memphis, Tennessee. He has released nine albums: Reflection, Empire, Minorville, High Above, PSA Volume 1, PSA Volume 2, Up & Away, Empire Deluxe Edition, and Reflection Deluxe Edition.
He began his music career in 2006 with the release of his debut album, Reflection on Reach Records. Since then, he has collaborated with various Christian hip-hop artists, such as Lecrae, KB, and Andy Mineo. 
In addition to his music career, Derek Minor is an entrepreneur and philanthropist. He founded the record label Refugee Music Group and has invested in various businesses throughout the United States.
Derek Minor has gained attention for his lyrical content, which often focuses on the struggles of life, faith, and redemption.
6. TobyMac
TobyMac is an American Christian hip-hop recording artist, music producer, songwriter, and author. He is best known for rap and hip-hop music, which is evident in songs such as "I'm For You" and "Love Broke Thru."
Moreover, he has achieved considerable success in the rap genre with his award-winning albums Momentum (2001), Welcomes to Diverse City (2004), and Portable Sounds (2007).
TobyMac's rap style is unique, combining rap with pop, rock, and soul elements. His lyrics often centered on his faith in Jesus Christ, are uplifting and inspiring.
7. Bizzle
Bizzle is another rap artist who has greatly impacted the rap scene. He is from the east coast and is known for his unique rap style and lyrics. He has collaborated with many other rap artists, including Jay-Z, Lil Uzi Vert, and Travis Scott.
He has released several albums that have been critically acclaimed and popular in the rap world. His music is often described as aggressive, edgy yet thoughtful and reflective. He is known for using rap to express his thoughts and feelings about the world around him.
8. Sho Baraka
Sho Baraka is a rap artist and author who has made a name for himself in hip-hop. His music is often described as socially conscious rap, with thought-provoking lyrics addressing various topics from race, politics, and faith. 
He has released several solo albums, most notably The Narrative (2012) and Talented 10th (2016).
In addition, he has also released several books, including Theuzohl: A Conversation on Race, Music, and Faith (2016) and his memoir Lions & Liars (2019).
He is also the host of The rap-centered podcast "The Prep School Podcast," which aims to bring rap music and culture to a broader audience.
9. Swoope
Swoope is a rap artist from Nashville, Tennessee. He is known for his witty lyricism and creative story-telling abilities. He is signed to the Collision Records imprint and has released four studio albums throughout his career.
He is also a member of the rap group "Wrecking Crew" and is known for working with fellow rap artists such as Mac Miller and Jon Bellion. 
He has released several popular singles, including "Blue Pill," "Wake Up," and "Take Over." Swoope is also a sought-after producer, having produced for rap artists such as Tedashii and Lecrae.
10. Manafest
Manafest is a rap artist from Ontario, Canada. He released his first rap album in 2002 and has become a globally renowned rap artist. He is best known for his rap songs that blend rap with rock and pop music elements, creating a unique sound. Manafest advocates upbeat rap music, often writing lyrics that reflect his faith and encourage listeners to push forward when times get tough.
Manafest has released several albums, the most recent being in 2018. His music has been featured on radio stations across Canada and America and streaming services like Spotify and Apple Music. Manafest has also toured extensively, playing concerts all over the world.
11. Hulvey
Hulvey is an up-and-coming rap artist with a bright future ahead. His rap style is melodic and lyrically conscious, setting him apart from many of his peers. His music reflects his life experience, often tackling mental health, faith, and relationships. 
He is unafraid to experiment with his sound, combining rap and R&B elements uniquely. His latest tracks have been praised universally by rap critics, and it looks like Hulvey is just getting started.
Conclusion: Best Christian Rappers
In conclusion, rap has been an integral part of the Christian music scene for many years. It has given a voice to those with something to say about their faith and allowed them to reach a larger audience. 
With so many talented Christian rappers, it's hard to pick just one. But some of the best Christian rap artists include NF, Lecrae, Sho Baraka, and Andy Mineo. Each artist brings unique style and energy to rap music, making it an excellent option for listeners looking for Christian-inspired rap. 
So if you're looking for rap music with a spiritual edge, these four rappers are worth checking out!
We hope you enjoyed learning more about the world of best Christian rappers. Until next time!
That's all! You can also check out 7+ Best Memphis Rappers (Rap Music) and Top 10 Best Atlanta Rappers of All Time.
Frequently Ask Questions
What is Christian rap?
Christian rap is a subgenre that focuses on themes and lyrics related to Christianity. This rap often includes positive messages about faith and encourages listeners to explore their beliefs.
Christian rap also incorporates pop, rock, and hip-hop elements into its sound. It is often used as a medium to spread the message of Christianity while also providing a distinct rap sound.
Who are some of the most popular Christian rappers?
Some popular Christian rappers include Lecrae, NF, Andy Mineo, and Trip Lee. Lecrae is perhaps the most well-known Christian rap artist, having achieved mainstream success with his albums Reach and Rehab.
NF is another famous rap artist who focuses on inspiring rap about faith and life struggles. Andy Mineo is a Christian rap artist with an upbeat sound, while Trip Lee combines rap with spoken word to create a unique sound.
Each of these artists has been successful in their own right and has helped to expand the Christian rap genre.
How does Christian rap differ from secular rap?
Christian rap differs from secular rap because the lyrics focus on Christian themes and messages. While secular rap often deals with topics such as materialism, violence, and sex, Christian rap focuses on faith and positivity.
The sound of Christian rap also differs in that it often incorporates pop and rock elements, while secular rap typically focuses more on hardcore rap elements.
Can Christians listen to secular rap?
Yes, Christians can listen to secular rap. While the themes in rap may not be consistent with Christian values, it is ok to enjoy rap music as long as it is not used to promote negative values or behavior. Ultimately, it comes down to each individual's personal beliefs and convictions.
Are there any Christian rap festivals or events?
Yes, there are several Christian rap festivals and events that take place throughout the year. These events range from large-scale rap concerts to more minor rap battles and showcases.
These events bring together rap fans worldwide to celebrate rap culture, particularly Christian rap. These events also feature workshops and other activities designed to help rap fans develop their skills.
Are there any Christian rap radio stations?
Yes, there are several Christian rap radio stations available. These stations typically feature rap music from Christian and secular artists, talk radio shows, and Christian rap news. They also usually offer music streaming services so rap fans can listen to their favorite songs wherever they go.
How can I find more Christian rap music?
You can find Christian rap music by searching for it on streaming services such as Spotify, Apple Music, and YouTube. Many websites are also dedicated to Christian rap, such as rapzilla.com and rapreviews.com.
Related Posts:

Luisa is the Content writer at BandMag. With 5+ years experience in content writing and SEO, he loves talking about content creation, SEO and her cat.