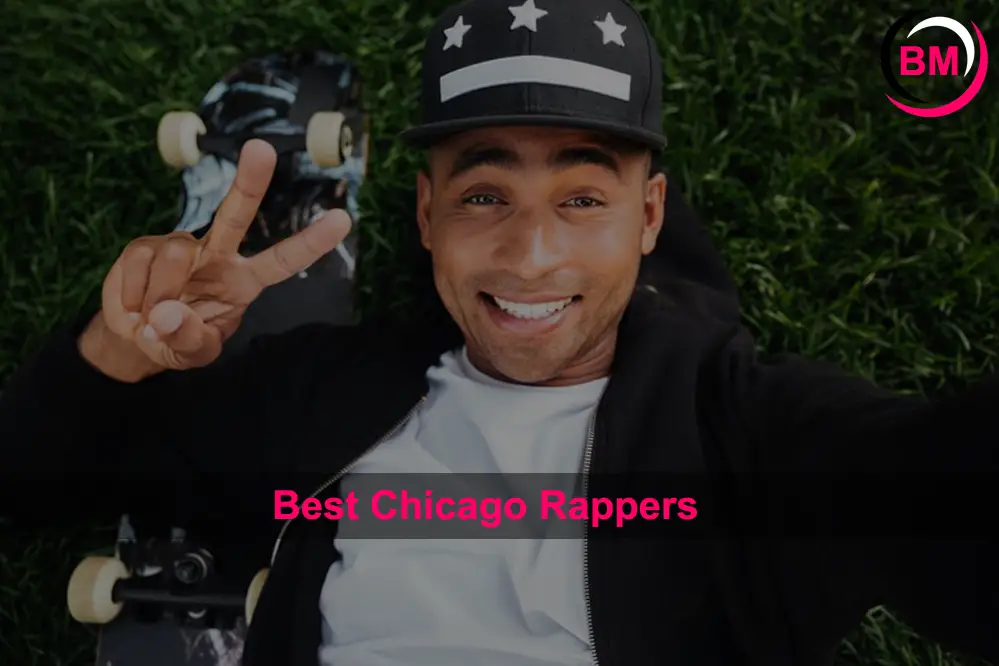 Are you wondering what are the best Chicago rappers of all time?
Chicago is known for many things – deep dish pizza, the Cubs, and architecture, to name a few. But the Windy City also has a thriving rap scene, with plenty of talented rappers making waves both in the city and beyond.
In this post, we'll take a look at some of Chicago's most popular rappers, their backgrounds, and what they're doing now. So whether you're a fan of hip hop or just curious about the scene in Chicago, read on!
History of Chicago Rappers (Rap)
The history of Chicago rap is a fascinating journey through eras of musical innovation and breakthroughs. From the influence of Luther Campbell to the birth of Kanye West, this city has had an immense impact on the rise of hip-hop culture.
Chicago artist Common revolutionized the rap game in the early '90s with his unapologetically personal lyrics and beat production techniques. Later, West made his mark with albums that tackled taboo subjects and shook up mainstream radio playlists for years to come.
The Windy City's unique sound has become recognizable around the world, as new generations continue to bring an eclectic mix of soulful instrumentals and socially conscious rhymes to every corner of the industry.
The Chicago hip hop scene is known for producing some of the most successful rappers in history. Some of the most famous names that emerged from this vibrant music scene include Chance the Rapper, Kanye West, and Lupe Fiasco.
These artists have managed to rise above the local scope and achieved fame across the world with their innovative styles and clever lyricism. Chance's unique blend of classic soul combined with modern-day influences caught attention right out of the gate, while Kanye and Lupe were praised for tackling social injustices in a thought-provoking manner.
Another name that needs mention is Chief Keef, whose drill music pioneered a new sound for rap fans everywhere. Altogether, these musicians have made Chicago one of the prime cities for up-and-coming rappers to make a mark on music history.
Let's jump into the list of the best Chicago rappers of all time.
1. Lil Durk
 Lil Durk is one of the most popular Chicago rappers, having released several albums and mixtapes since his emergence in 2011. His music is a blend of drill and autotuned trap that has earned him recognition from many hip-hop fans around the world.
He's collaborated with big names like Future, Meek Mill, and Jeremih on various tracks and has had success both as a solo artist and with his group, Only The Family.
2. Kanye West
The legendary Kanye West needs no introduction; he's been one of the most influential musicians of the past decade and is known for his innovative production style and thought-provoking lyrics.
His music has made an impact around the world, with fans of all ages embracing his sound and message.
3.  Common
 The Chicago veteran Common has been turning heads since 1994 after releasing his classic debut album, Resurrection. His music was revolutionary at the time, incorporating thoughtful lyricism and conscious themes that resonated with many listeners.
He's been nominated for multiple Grammy awards and has consistently pushed the boundaries of hip hop with each new release.
4. Twista
Twista is a Chicago legend who has been around since 1991 when he released his debut album Runnin' Off At Da Mouth. He was one of the early pioneers of rap music in the city and is known for his rapid-fire delivery and intricate rhyme schemes.
He's released several albums since then and continues to be active in the music scene today.
5.  Lupe Fiasco
Lupe Fiasco is another Chicago rapper who made waves with his debut album Food & Liquor, which was highly acclaimed and resulted in two Grammy nominations. Besides rap, he's also a songwriter, producer, and entrepreneur.
He was recently featured on the song "Mission" with Snow Tha Product, which reached number 38 on the Billboard rap charts. Lupe is well known for his socially conscious lyrics and storytelling ability, making him one of the more unique voices in rap.
He has also been involved in several philanthropic projects over the years, including working with the ONE Campaign to fight extreme poverty and hunger.
6. Polo G
Polo G is a rap artist who rose to fame in Chicago. He gained widespread popularity with the release of his debut studio album Die a Legend in 2019, which spawned the hit singles "Pop Out" and "DND".
His follow-up album, The GOAT, debuted at number two on the Billboard 200 and was certified double platinum by the Recording Industry Association of America. He has collaborated with rap heavyweights including Lil Durk, Juice WRLD, and Lil Tjay.
He is one of the newest rap stars out of Chicago and continues to gain more recognition with his honest lyrics and catchy beats.
7. G Herbo
G Herbo is a rap artist from Chicago, Illinois. He is known for his hard-hitting rap style and accurate storytelling. His music often touches on topics such as poverty, violence, and growing up in the city.
He has released a number of critically acclaimed projects including his debut album Humble Beast and the follow-up mixtape Swervo. He has been praised for his lyrical ability to accurately portray the harsh realities of life in Chicago.
G Herbo has quickly become one of the most promising rap artists out of Chicago. If you're looking for rap with a powerful message, G Herbo is a great place to start.
8. King Von (R.I.P)
King Von exploded on the rap scene out of Chicago. His commanding presence, engaging storytelling, and hard-hitting bars cemented him as one of rap's greats. King Von was a key figure in the Chicago rap scene, and his influence on rap culture will live on.
Moreover, he is credited with inspiring a generation of rap artists in Chicago. He set the stage for rap music to be taken seriously and respected within the city.
King Von's rap career was cut short far too soon, but his legacy will live on through the inspiration he gave to other rap artists. He will be deeply missed in rap music, but his powerful music and influence will remain.
In 2020, King Von was posthumously nominated for an American Music Award for Favorite Rap/Hip-Hop Album. This recognition serves to highlight just how influential and well-respected his rap was.
9. Chance The Rapper
Chance The Rapper is a rap artist from Chicago, Illinois. Born Chancelor Johnathan Bennett in 1993, he began releasing music independently in 2011 and has since become one of rap's biggest stars.
He has released three critically acclaimed mixtapes and was the first rap artist to ever win a Grammy for Best Rap Album with his third mixtape, Coloring Book. He is also known for collaborating with other rap and hip hop artists such as Kanye West, Childish Gambino, and Lil Wayne.
He has also been involved in a variety of philanthropic initiatives throughout the Chicago area.
10. Chief Keef
Chief Keef is an American rap artist from Chicago, Illinois. He rose to fame in 2012 with his song "I Don't Like," which was popularized by a rap battle website.
This song catapulted Chief Keef into mainstream rap and put him on the map as a major rap artist from Chicago. His rap style is often characterized by his aggressive and violent lyrics that are reflective of the struggles he has faced in his life. He has since released several successful mixtapes and has collaborated with other rap artists.
Chief Keef is one of the most influential rap artists from Chicago, setting the trend for a new rap sound that has become popular in the city. He continues to make music and is a major influence in rap culture today.  ​
Meanwhile, you can also check out What Rapper Is in Ozark Season 4 (Trap Manny)
11. CalBoy
CalBoy is a rap artist from Chicago. He began his career in 2018, releasing the single "Envy Me". The song became an instant hit and was streamed over 100 million times, making it one of the most successful rap songs from Chicago.
Since then, CalBoy has released several more singles and albums that have been met with both critical and commercial success. His sound is a mix of rap, trap, and R&B, with his lyrics representing the struggles of his Chicago upbringing.
He has become an important voice in rap music and is quickly becoming one of the most successful rap artists from Chicago.
12. Lucki
Lucki is another rap artist from Chicago, who recently began his career in rap. His style is a mix of rap and alternative rap, blending modern rap with older rap influences. His lyrics are often introspective, focusing on topics such as mental health and personal struggles.
He has collaborated with many underground rap artists, including Chief Keef, Vic Mensa, and Lil B. He has also released several mixtapes, including Alternative Trap, Free Wave 3, and Body High 2.
Lucki has received critical acclaim for his work and is helping to shape the rap culture in Chicago. He is definitely an artist to watch out for in the rap scene.
13.  Lil Zay Osama
 Lil Zay Osama is a rap artist from Chicago's South Side, known for his melodic rap style and strong lyrical content. He first gained attention in the rap scene with his 2016 single, "I Ain't Playin," which quickly gained popularity amongst rap fans.
His debut album, "High-End Street Music" was released in 2017, and was met with critical acclaim. Since then, he has continued to make waves in the rap game with his energetic live performances and classic rap sound.
His music often focuses on his struggles growing up on the South Side and speaks to the issues that face many in his city.
14. PGF Nuk
PGF Nuk is a rap artist from Brooklyn, New York. He has established himself as an up-and-coming rap star in recent years thanks to his clever rhymes and intricate rap style.
He first caught the attention of rap fans and critics alike with his debut EP 'Everything Must Change' in 2017. Since then, PGF Nuk has released several critically acclaimed rap albums and singles, earning him a dedicated fanbase.
He is known for his unique rap style, which blends rap, rap-rock, and rap-metal to create something entirely different. As well as being an artist on the rise, PGF Nuk is also a strong advocate for rap in the Bronx, inspiring and motivating young rap artists to continue on their journey.
His music is an inspiring mix of rap, hip-hop, and rap-rock that is sure to get any rap fan's blood pumping. PGF Nuk is a rap artist worth checking out if you're looking for something new and exciting in rap music.
15. Saba Pivot
Saba Pivot is an American rap artist from Chicago, Illinois. His rap career began in 2010 when he released his debut mixtape, Saba Pivot: The Mixtape. Since then he has released several albums, EPs, and mixtapes and has become one of the most respected rap artists in Chicago.
He has collaborated with artists such as Chance the Rapper, Vic Mensa, and Mick Jenkins. His style is a hybrid of rap and soul that focuses on complex rap flows while maintaining a positive and inspirational message.
His lyrics often focus on topics such as poverty, race, relationships, and self-love. In addition to rap, Saba Pivot is also a talented producer whose beats are often used in his own songs as well as those of other rap artists. He is an important figure in the rap scene and continues to make waves with his music.
How Chicago Rap has Changed Over the Years
Chicago hip-hop has gone through a plethora of changes since its inception in the late 1970s. At first, it was used solely as an instrument to express personal narratives, however, it has now evolved into a tool to tackle social and political issues in addition to reflecting emotion.
While many modern Chicago rappers still pay homage to their predecessors by keeping their city's core values intact, they have creatively expanded upon the genre by introducing sounds from other places and incorporating socially progressive messages in their lyrics.
The evolution of rap in Chicago not only serves as inspiration for artists across the globe but also reflects a great living example of how the power of music is used to make positive social change.
What Makes a Good Chicago Rapper
Becoming a great Chicago rapper is no easy task. It involves crafting unique, powerful rhymes that capture the essence of their city and convey a deep understanding of hip-hop culture.
Chicago rappers must pull from the soulful R&B and House that's endemic to the area, always striving for authenticity in their sound.
Additionally, they must have a refined stage presence, able to impress and captivate even the most discerning crowds through unbridled charisma and lyrical mastery. Those who possess all these traits will certainly rise as one of the city's top lights.
Ultimately, what makes a good Chicago rapper is confident expression combined with an intimate knowledge of their genre and heritage – it's not something that can be mastered overnight.
Where to Find New Chicago Rap Music
If you're looking for new rap music coming out of Chicago, you'll find lots of great options. Not only is there a vibrant local scene with plenty of clubs and venues featuring performances by emerging artists, but many sites like Bandcamp and SoundCloud also provide avenues to stream and purchase up-and-coming Chicago rap music.
Additionally, repositories like Apple Music or Spotify are regularly updated with newly released tracks from Windy City's impressive roster of hip-hop heavyweights.
So whatever your taste in rap may be, there's bound to be something fresh being released from the heart of Chicago.
Conclusion
Chicago rap is a cultural force that continues to grow and evolve. From Saba Pivot to PG Nuk, rap music from Windy City has been a source of inspiration to rap artists around the world. While staying true to its roots in terms of sound and style, Chicago rap continues to push the boundaries of rap and explore new creative avenues.
If you're ever looking for new rap music from Chicago, there are plenty of places to find it, such as streaming services like Apple Music and Spotify or local rap venues. So if you want to stay up-to-date with the latest rap from Chicago, there's no shortage of options!
That's all! You can also check out Forever in Our Hearts: Remembering the Rappers that Died and 9 Best White Rappers with Braids.
Meanwhile, you can also check out Top 15 White British Rappers (U.K. Rappers) and The 15 Best Philly Rappers of All Time.
Best Chicago Rappers – FAQs
Who is the most popular Chicago rapper?
One of the most popular Chicago rappers is Chance the Rapper, who has gained widespread recognition for his unique style and socially conscious lyrics. Other popular Chicago rappers include Kanye West, Common, and Lil Durk.
What is the Chicago rap scene like?
The Chicago rap scene has a rich history and has produced many influential artists. The city has a diverse range of styles, from the politically conscious and socially conscious lyrics of Common and Kanye West to the drill music popularized by artists like Chief Keef and Lil Durk. Chicago rap is known for its strong sense of community and collaboration among artists.
What are some notable record labels in the Chicago rap scene?
Some notable record labels in the Chicago rap scene include Def Jam Recordings, which has signed artists like Common and Kanye West, and Glory Boyz Entertainment, which was founded by Chief Keef and has signed artists like Lil Durk. Other notable labels include All Money In No Money Out, founded by Lil Durk, and Acid Rap, founded by Chance the Rapper.
What are some classic Chicago rap albums?
Some classic Chicago rap albums include "The College Dropout" by Kanye West, "Be" by Common, and "Acid Rap" by Chance the Rapper. Other notable Chicago rap albums include "Finally Rich" by Chief Keef and "Love Songs 4 the Streets" by Lil Durk.
What are some notable events or venues in the Chicago rap scene?
Some notable events or venues in the Chicago rap scene include the annual Pitchfork Music Festival, which has featured performances by Chicago rappers like Chance the Rapper and Vic Mensa, and the Open Mike events hosted by Chance the Rapper, which provide a platform for up-and-coming artists to perform. Other notable venues include the Metro and the House of Blues.

John is the Senior Content writer at BandMag. With 8+ years experience in content writing and SEO, he loves talking about content creation, SEO and his dog.