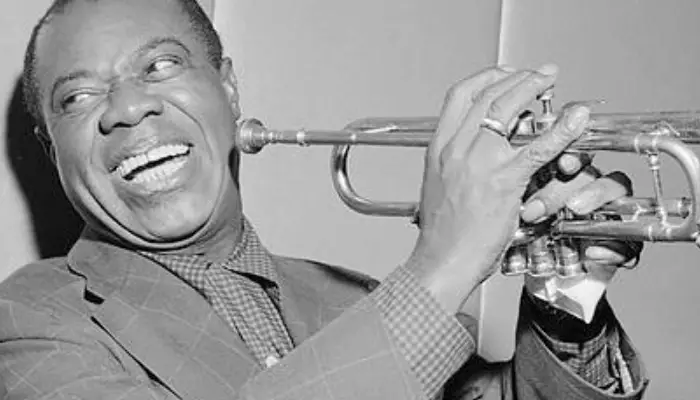 Considered one of the most influential figures in jazz history, Louis Armstrong was a trailblazer who changed the course of popular music forever. 
With his unique style and charisma, Armstrong left an indelible mark on American culture, and his influence is still felt today. Let's take a look at the life and career of this musical icon.
Story of Louis Armstrong
Armstrong was born in New Orleans in 1901, and he grew up in a poor, mostly African American section of town known as the "Black Belt." Despite his humble beginnings, Armstrong had a natural talent for music and started playing the trumpet at a young age. 
He quickly developed his skills and began performing in New Orleans' famous jazz clubs. It wasn't long before he caught the attention of some of the biggest names in jazz, including bandleader King Oliver.
In 1922, Armstrong made his first recordings with Oliver's band. These recordings were very well received, and they helped to launch Armstrong's career. 
He soon left Oliver's band to form his own group, Louis Armstrong and His Hot Five. With this new group, Armstrong revolutionized jazz by creating a more improvisational style of playing that emphasized individual expression. 
This new style would come to be known as "hot jazz."
Throughout the 1920s and 1930s, Armstrong continued to innovate and experiment with his music. 
He made countless recordings with various groups and collaborated with some of the biggest names in entertainment, including Cab Calloway, Bing Crosby, and Ella Fitzgerald. 
In 1931, he even starred in his own Hollywood film, "A Song Is Born." 
Conclusion: 
Louis Armstrong was a true pioneer whose influence is still felt today. With his innovative style and captivating personality, he changed the course of popular music forever. 
Thanks to his contributions, we can enjoy the vibrant genre of jazz in all its forms.
That's all! You can also check out The Life and Times of Billy Joel and James Brown: The Godfather of Soul.
Want to know more about musical instruments? Check out our BandMag blog.

Luisa is the Content writer at BandMag. With 5+ years experience in content writing and SEO, he loves talking about content creation, SEO and her cat.