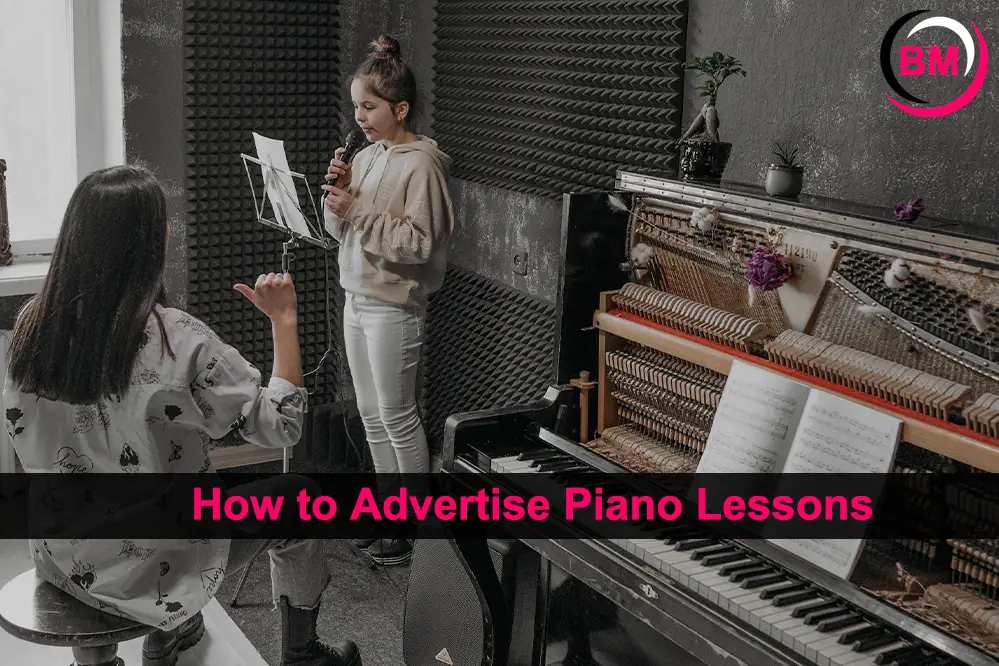 Are you wondering How to Advertise Piano Lessons?
If you are a piano teacher or an aspiring one, there is no doubt that you are passionate about music and love to teach your students. 
However, the challenge most teachers encounter is how to advertise their piano lessons to reach as many potential students as possible. There is no need to worry anymore because, in this blog post, we will be discussing practical tips on how to advertise piano lessons effectively. 
Whether you are just starting out or have been teaching for a while, these tips will help you reach new students and build a thriving piano-teaching business.
How to Advertise Piano Lessons
Create a website – In today's digital age, having a website is paramount to advertising your piano lessons. 
A website is your online presence, and it allows potential students to learn more about you and your teaching. Be sure to include information such as your background, experience, teaching philosophy, and testimonials from current or past students. A website also makes it easy for potential students to contact you and book lessons.
Use social media – Along with a website, social media is an excellent tool to advertise your piano lessons. Platforms such as Facebook, Instagram, and Twitter are great for creating a buzz around your teaching. 
Be sure to post regularly about your lessons, your student's successes, and any upcoming events or recitals. You may also join Facebook groups or music-related forums where you can interact with potential students and their parents.
Offer a free trial lesson – Many potential students may hesitate to commit to piano lessons, especially if they have never taken them before. 
Offering a free trial lesson is an excellent way to introduce yourself to a potential student without any obligation. During a trial lesson, you can evaluate their level, discuss their goals, and present your teaching style. If you both feel comfortable, you may proceed to book a full lesson schedule.
Utilize word of mouth – Word of mouth is one of the most powerful methods of advertising piano lessons. Ask your current or past students to refer you to their friends, family, or colleagues who may be interested in taking lessons. You may also attend local music events, concerts, or recitals and hand out flyers, brochures, or business cards.
Collaborate with a music store – If there is a music store in your area, reaching out to the owner and offering to collaborate can be a win-win situation. You may offer to teach at their store, hold joint events or recitals, or simply leave flyers or brochures at their store. Music stores are a great hub for musicians, and advertising your piano lessons in such a place can reach many potential students.
Conclusion: How to Advertise Piano Lessons
In conclusion, advertising your piano lessons may seem daunting, but with the above practical tips, you can reach new students easily. 
Creating a website, using social media, offering a free trial lesson, utilizing word of mouth, and collaborating with a music store are all effective methods to promote your teaching. 
It is essential to customize your advertising to suit your business's unique needs and keep up with the changing times. 
Remember, advertising is an ongoing process, and with patience and practice, you can build a thriving piano-teaching business.
Related Posts:

Luisa is the Content writer at BandMag. With 5+ years experience in content writing and SEO, he loves talking about content creation, SEO and her cat.