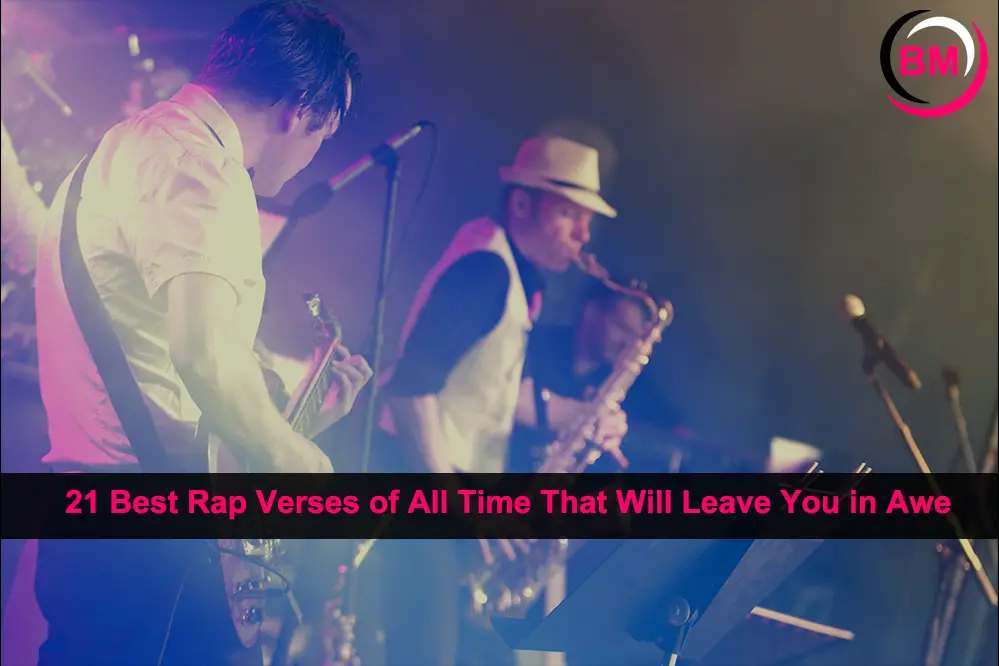 Have you ever wondered what are the Best Rap Verses of all time?
Rap music has dominated the music world for decades, appreciated by people of all ages and backgrounds worldwide. One fundamental element that makes rap music stand out from other genres is its lyrics. Throughout the years, countless rap verses have undoubtedly landed themselves in the history books of music. 
Lyrics that were not just words put together for the sake of creating a song were stories, messages, and art. This blog has rounded up 21 of the best rap verses that will leave you in awe. These verses showcase the powerful influence of rap music and how it has continued to impact our culture today.
Best Rap Verses of All Time
1. Nas – N.Y. State of Mind
The first verse from Nas's N.Y. State of Mind's 1994 album 'Illmatic' is considered one of the most significant verses ever. The verse is an intense and vivid description of how Nas saw and experienced New York City during his younger years.
2. Eminem – Lose Yourself
Eminem's 'Lose Yourself' verse starts as a monologue, which gradually increases in pace and intensity, building up to an explosive conclusion. It is one of the most inspiring and motivational verses in rap history.
3. Kendrick Lamar – Sing About Me, I'm Dying of Thirst
Kendrick Lamar's 'Sing About Me, I'm Dying of Thirst' is a haunting account of a victim of gang culture. His flow and lyricism provide a vivid insight into the harsh realities of life in underprivileged neighborhoods.
4. Notorious B.I.G. – Juicy
'Juicy' is one of hip-hop's most recognizable and celebrated tracks. Notorious B.I.G.'s effortless flow and narrative about his early life and rise to success are among his most memorable verses.
5. Jay-Z – D'Evils
'D'Evils' was a breakout track for Jay-Z, who, at the time, was an up-and-coming rapper. The verses were sharp and meaningful, describing the dangers of the criminal world and how it could consume even the most innocent of individuals.
Rakim – Lyrics of Fury
The opening rap verse of 'Lyrics of Fury' sets the song's tone. Rakim's smooth style and complex lyrical structure make it one of the most impressive rap verses ever.
Lupe Fiasco – Mural
The entirety of Lupe Fiasco's 'Mural' is a lyrical masterpiece, spanning nine intense minutes. The rap verse culminates in Lupe's storytelling ability and clever wordplay, making it a landmark in rap history.
Black Thought – Concerto of the Desperado
Black Thought's verses in 'Concerto of the Desperado' are some of the most impressive in rap history. He creates an intense, dramatic narrative, painting vivid pictures of the realities of life in the projects.
Busta Rhymes – Scenario
Busta Rhymes' verse in 'Scenario' was one of the most explosive at its release. His rapid-fire delivery, which ramps up in intensity, culminates in one of the most memorable lines in rap history.
Tupac – Changes
'Changes' is one of Tupac's most raw and powerful tracks. In it, Tupac talks about the daily struggle and violence that black Americans face, making it one of the most impactful rap verses of all time.
Outkast – B.O.B.
Andre 3000's verse in 'B.O.B.' perfectly blends funk, soul, and rap, making it a standout verse in hip-hop. His lyrics and delivery are so remarkable that the verse led the way for a new sound in rap music.
Kanye West – Ultralight Beam
Kanye West's 'Ultralight Beam' verse is a religious and introspective reflection on his life, both musically and personally. His thought-provoking lyrics are a call to a higher power, making it one of the most significant verses in his career.
Lil Wayne – Carter 3 Intro
Lil Wayne's Carter 3 intro may look simple, but it's among his most iconic work. He demonstrates his versatility and prowess with his commanding and playful wordplay, making it one of the highlights of the mixtape era.
Lauryn Hill – Lost Ones
'Lost Ones' sees Lauryn Hill using her flawless lyrical ability to deliver a message about the damaging effects of betrayal in relationships. The rap verse is emotional and intense, showcasing her storytelling prowess.
Ghostface Killah – Shakey Dog
Ghostface Killah's 'Shakey Dog' is one of his most fascinating offerings, made even more so by his storytelling approach. The verses describe a chaotic scene on the streets, culminating in an unforgettable climax.
MF Doom – Thats That
MF DOOM's verses on 'That's That,' are both intricate and compelling, weaving easily in and out of one another. The lyrics are dark and humorous, showing artistic diversity rarely seen in rap music.
Childish Gambino – Bonfire
In 'Bonfire,' Gambino's lyrics are self-deprecating and humorous, and the delivery style is brisk and snappy. The verse showcases Gambino's refreshing take on modern rap and grittier tone.
J. Cole – Be Free
J. Cole's 'Be Free' is a powerful commentary on issues surrounding race and police brutality in the United States. The verse is raw and bold, with Cole speaking directly to the camera, making it one of the recent most affecting rap verses.
Big Daddy Kane – Symphony
Despite featuring several rappers, Big Daddy Kane's verses remain the most memorable. His verse has a flow that is as smooth as it is passionate and backed by an equally impressive beat, making it one of the most iconic verses in the history of rap.
Mos Def – Mathematics
Mos Def's mathematics verse comprises some of rap's most intricately woven rhymes. He uses the verse to show how the negative stereotypes that black individuals face impact their lives overall quality.
Snoop Dogg – Gin and Juice
Despite being one of rap history's most well-known party tracks, Snoop Dogg's verses in 'Gin and Juice' are still impressive. His relaxed and laidback delivery style belies the fast-paced and tightly knit rhymes he uses.
Conclusion: Best Rap Verses
Rap is a musical genre that thrives on originality and creativity, both of which these verses embody perfectly. These verses we have compiled in this post only scratch the surface of all the great verses created throughout the years. 
Each of the verses above is a testament to the rap artists' skill, dedication, and passion behind them. These standout verses have left an indelible mark on rap and pop culture, ensuring that the influence of this historically significant genre will be felt for years to come.
Frequently Ask Questions
What is the most famous rap verse of all time?
Nas's verse from 'The World Is Yours' is the most iconic rap verse ever. The focus on self-empowerment and lyrical dexterity resonated with listeners, becoming one of the most influential verses in hip-hop history.
Who has the best rap flow?
Kanye West is considered by many to have the best rap flow of all time. His delivery is rapid-fire and captivating, making his verses stand out compared to other rappers.
What makes a great rap verse?
A great rap verse should be lyrically captivating and have an identifiable structure. It should be unique, creative, and able to connect emotionally with the listener. Additionally, the flow should be tight and consistent, ensuring that the song remains engaging from start to finish.
What is a rap cadence?
A rap cadence refers to the rhythm of a rapper's verse. Different word patterns and syllable stresses create a unique and memorable flow. A rapper's cadence is often used as an indicator of their skill level and can be used to set them apart from other rappers.
What are some techniques for writing rap verses?
Some techniques for writing rap verses include: finding inspiration, keeping the beat in mind, experimenting with different flows, writing down thoughts and ideas, using punchlines and rhymes, and practicing your delivery. 
Additionally, it can be helpful to listen to other rappers for inspiration and learn from their techniques.
What is the most essential element of a rap verse?
The most important element of a rap verse is its overall message or theme. An excellent rap verse should have an underlying message or idea that resonates with the listener and is lyrically interesting. A rap verse without a clear purpose or theme is unlikely to be memorable.
How can I make my rap verses stand out?
You can make your rap verses stand out by thinking outside the box and experimenting with different flows and cadences. 
Additionally, it would help if you focused on crafting punchlines, using clever wordplay, and keeping your verses structured and focused on one main idea. Finally, practice your delivery and ensure you have confidence in your ability.
Related Posts:

Luisa is the Content writer at BandMag. With 5+ years experience in content writing and SEO, he loves talking about content creation, SEO and her cat.